---
In this section you can read about clients who have used Phillip Shannon Photography. I hope you find them useful in placing your next assignment with me. Please call on the following numbers, I look forward to speaking with you.
Tel: 0113 240 9982
Mobile: 07984 020 955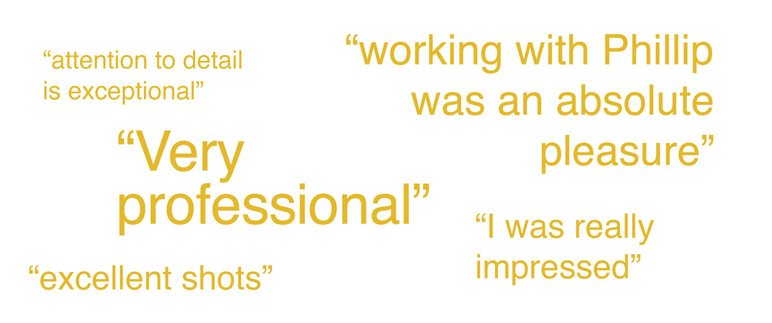 I can say that he's the best I've worked with by a distance.

Highly recommended.
I recently had Phillip do my photos for my website and, having worked with various photographers before, I can say that he's the best I've worked with by a distance.

- Getting answers to my initial questions: Swift, clear responses.
– Making an appointment: Simple?
– Location: Has his own studio and decent backgrounds in outside locality.?
- Understanding and execution of the brief: Impeccable.?
- Personality: Warm and personable.?
- End product: Better than expected with faster delivery than expected.

I will certainly be using Phillip's services again as the need arises. Highly recommended.

Tom English
Professional Training & Coaching at English Tom. Website coming soon.
Phillip was a real pleasure to work with throughout the shoot

.
"We eat with our eyes", as the saying goes, and I knew I needed some high end photos of my range of truffles to really do them justice - and enter Phillip! Before I even met Phillip he was able to give me lots of advise about ideas to think about to make my products look their best. When I came back with some ideas, he was really helpful. In particular, he was honest enough to advise me on what would and very importantly, what wouldn't work.

Phillip was a real pleasure to work with throughout the shoot. He has a very professional set up, but was very friendly and very patient with my very particular requirements! It was also great to be able to look at a shot straight away to check if you liked it or not, cutting down on wasted photos. I was blown away with the end result, and have received some great compliments. His prices are also great value for money for a really high-end result, so Phillip will be my food photographer of choice when I need my other shoots doing. I won't hesitate to recommend his services in future.
Marcia Clarke
Abundance Foods, Leeds.
He was a pleasure to work with, being friendly, accommodating and we was extremely impressed by his experience.
We chose Phillip as our supplier to carry out a complete revamp of our product photography, due to him being based locally and the quality of his previous product photography experience. He was a pleasure to work with, being friendly, accommodating and we are extremely impressed by his experience, skill, attention to detail and professional studio. We are very happy with the finished new product shots and are certain that they will have a hugely positive impact in promoting our business both online and in print - giving epco and our products a much improved image and brand. 
Luke Chapman - Marketing Coordinator
Epco Pipe Systems: https://www.epco-plastics.com
" His recent photos of our flagship recording studio microphone were stunning "
I have worked with Phillip for the last 6 months on various product photography for Audio-Technica. His recent photos of our flagship recording studio microphone were stunning and really showed off the product in its best light. He is easy to work with, very creative with various lighting effects, open to ideas and always brings the best out of the products. The turnaround on the photos is very fast and everyone in the company has been impressed by the quality of the final images. I would highly recommend Phillip for his high quality work.
Tim Page
Marketing Manager EMEA

" Phillip has a great combination of creativity with an eye for detail. "

He takes the time to understand the brief and is very flexible and easy to work with.
I often start with a set plan for the shoot and then we end up bouncing ideas and experimenting at the end of the session.
These off brief moments have created some of our best product shots.
The new studio is a great location and the perfect set up, with the bonus of not having to venture into the city center.
Felicity Jones. Marketing Manager. Network Medical Products

" Phillip was very professional "
" Taste Tradition recently needed some cooked food photography for our website and other marketing materials.  We contacted Phillip Shannon Photography, I would like to say that Phillip was very professional in his manner and approach, and the final product was of the highest quality.  He was a pleasure to work with, and we will certainly use his services again.
Joyce Ashbridge
 " Excellent shots that truly reflected the quality products "
" I have recently worked with Phillip shooting the food photos for our on line meat division of Farmer Copleys. I had no experience what so ever with regard to photographing food, however I do know what I like and what I wanted the end product to be. Phillip and his team did one of the most important things they can in my mind, which is that they listened (rather than doing just what they wanted) this resulted is excellent shots that truly reflected the quality products, these photos teamed with the web design I am certain will be a success and I look forward to working with Phillip again in the near future."
Heather Copley
Director Farmer Copleys Farm Shop Ltd
" I was really impressed with his work "
I work for a charity called the Willow Foundation, and we organise Special Days for Seriously Ill Young Adults, between the age of 16 and 40. One lady applied to us and requested to have a photography session in Round Hay Park in Leeds - of her and her husband in their wedding outfits. They never had the chance to have the 'big white wedding' although it was something she always dreamed of - and so I started to arrange this photography session for them!
I found Phillip Shannon's website on the internet, and I was really impressed with his work, and so I approached him to see if he could help us with this request. I am pleased to say not only did he help, but he has been amazing throughout this whole process. From start to finish he has shown such attention to detail, and been a great contact for me to organise something really special.
 The couple said that on the day he was just wonderful, and assisted them with everything that they needed and wished for! They felt completely at ease and relaxed, which is exactly what we were hoping for!
 From our perspective Philip has worked really hard behind the scenes, getting everything organised for the venue and the photo shoot. He has gone out of his way to help us as a charity and we are really grateful for everything that he has done!!
 Hayley Maddox
 " It was a pleasure to work with Phillip "
We worked with Phillip Shannon on a photographic project spread over a 4 week period, this involved visiting our clients location to shoot for a range of needs to publicize the clients urban retail and city living development.The brief was extensive and quite detailed, it involved location photography of a variety of different views covering many scenarios.
It was a pleasure to work with Phillip he took on the brief with professionalism and delivered not only what we were after, but much more too, and would have no hesitation in recommending Phillip Shannon Photography."
Emmanuelle Clermont
Account Manager
Underscore
" attention to detail is exceptional "
A very warm welcome as soon as you arrive at Phillip Shannon Photography. Excellent large spacious working photographic studio. (You could get a steam engine inside!) it is a huge fabulous space. Excellent facilities, kitchen, make-up room with mirror and lights, changing room with clothes rail. His set design, lighting, photography, attention to detail is exceptional. As a make-up & hair artist/ stylist it is always very exciting to work with a photographer who has these qualities.
Samantha Myers : Hair & Make up Artist.
---
" He immediately understood what we required "
Working with Phillip was an absolute pleasure. He immediately understood what we required and came up with numerous ideas to try. At the same time he was more than happy to give our ideas a go and he adapted them so that they worked.
The turnaround from the shoot to getting the pictures to my desk was extremely fast and the quality was superb – exactly what we were looking for.
We will definitely be using Phillip again.
Emma Greatrex
Hospitality & Services Coordinator
Leeds Innovation Centre Limited
See the Blog here
" Great food photography for local business "
I was in need of some professional food photography to promote my products. I run a small food business in Leeds, Yorkshire, and was concerned about commissioning professional food photography, was how it was done?, what was involved?, and quite high on my list was how much it might cost?.

I have to say that Phillip eased me through the planning stages with ease, his obvious extensive experience in this area is clear and he was appreciative of my budget but found a way through this to plan and carry out the food photography with a high degree of professionalism and creativity.

He was able to create a series of food images which sit together very well, and they really focus on the product and I am certain they will help my business reach the next level in my marketing plan. I have already had some great feedback from a national food magazine.

I would have no hesitation in recommending Phillip for any food photography projects, to any business in Leeds or beyond.

Mike Tattersall
" A great photographer to work with "
I found Phillip willing to give me help and advise before I booked him as my jewellery photographer which is unusual and to be commended.

On the day of the shoot Phillip was brilliant his attention to detail was exceptional and he soon put me at my ease in terms of confidence in him.

During the days shoot Phillip combined absolute professionalism with an easy going very friendly and warm manner.
The results of the day are brilliant and I wouldnt hesitate about using Phillip again. I would thoroughly reccommend Phillip Shannon Photography to everyone looking for fabulous quality Jewellery photography combined with great value & professionalism. A great photographer to work with.
Mandy Louise Field
See some of the new work in my jewellery section
" Phill is professional, organised and extremely easy to work with. "
I have worked with Phill on several projects, shooting gifts, wedding table decorations and favours.

Although the task at hand can get very tedious when shooting 100's of different boxes, ribbons and table gems in a variety of styles, Phill always keeps his spirits high and maintains enthusiasm long after mine has expired!

Phill is professional, organised and extremely easy to work with. Aside from his obvious experience and skill in lighting, composition and other technical capabilities, Phill will often suggest improvements to the style and propping of the products too, which are always much appreciated as they always result in better shots.

I am sure Phill is exhausted after a day shooting with me as we achieve a phenomenal shot rate, however he is always still smiling at the end of it and I leave knowing that we have got the most that we possibly could from the day. Thank you Phill!

Helen Todd
Buyer & Operations Manager.
The Last Detail.